Responsible boxes
Exclusive service to members
SPECIAL SCHEDULE
The service is offered according to the evenings and times indicated on the home page of our website and are subject to change.
---
4 boxes available:

REGULAR
RESPONSIBLE BOX (DETECTOR): $325,00 + tax $285,00 + tax


Regular lifetime membership card + an APC-90 detector

RESPONSIBLE BOX (BREATHALYZERS): $185,00 + tax


Regular lifetime membership card + 10 single-use breathalyzers
PLATINUM
RESPONSIBLE BOX (DETECTOR): $425,00 + tax $375,00 + tax

Platinum lifetime membership card + an APC-90 detector

RESPONSIBLE BOX (BREATHALYZERS): $285,00 + tax


Platinum lifetime membership card + 10 single-use breathalyzers
---
Service description
The service is valid for the member as well as the people in the same vehicle as him. Also, depending on your membership card, other privileges may apply. With your personal card, you can offer the service to guests leaving your home. Anywhere else, there is an extra $15.00. Know that the priority goes to official members and that non-members are not assured to have access to the service.
---
Fares for rides
There is always a rate for the ride, payable only by credit card. Cash is accepted only as an exception or tip to drivers.
The base fare is $38.00 for 10 km and $1.80 per additional km (+ tax).
To have an estimate of the fare, use Google Maps by entering your starting point and the final destination, however the fare from PZ8 will prevail (additional fee for detours).
Upon our arrival, you have 10 minutes to get ready to go. After this timeframe, the waiting fee is of $1.00 per minute.

Alcohol ignition interlock: Additional fee of $15.00; you must mention it during the request for the ride and you must have a new mouthpiece for the driver.

The tip to the drivers is at your discretion.

Minimum fee of $25.00 will be required for an unnecessary movement.

Receipts are sent by email on demand
---
Procedure for the request for the ride
By phone : When you call, we will ask for your name, your membership number, as well as the exact starting address and a phone number to join you.

Via the app : After having created your profile in the app, you can quickly carry out a request for a ride, see its state as well as the price. The app is available for iPhone and Android.
Following the request for the ride, a team of 2 drivers arrives in generally less than 30 minutes, or more depending on the availability of the drivers. A more precise timeframe will be given when requesting the ride. NB: Delays are higher during the holidays.
---
Single-use Alco-Detect
This single-use breathalyzer allows you to know if your alcohol level is between 0.02 and 0.08, due to a change in the coloring of the crystals. Approved by FDA (Food and Drug Administration).
Benefits
Effective, economic and no calibration necessary.

Easy to interpret: a different color for each level.

Small and discreet, can be slipped into a pocket or handbag.
The single-use breathalyzers are on sale for $4.00 each + tax.
---
Personal electronic alcohol detectors
Whether you are a responsible host, a good friend or a devoted parent, those devices offer you peace of mind and allow you to act responsibly in matters of alcohol.
*Additional mouthpieces available for purchase.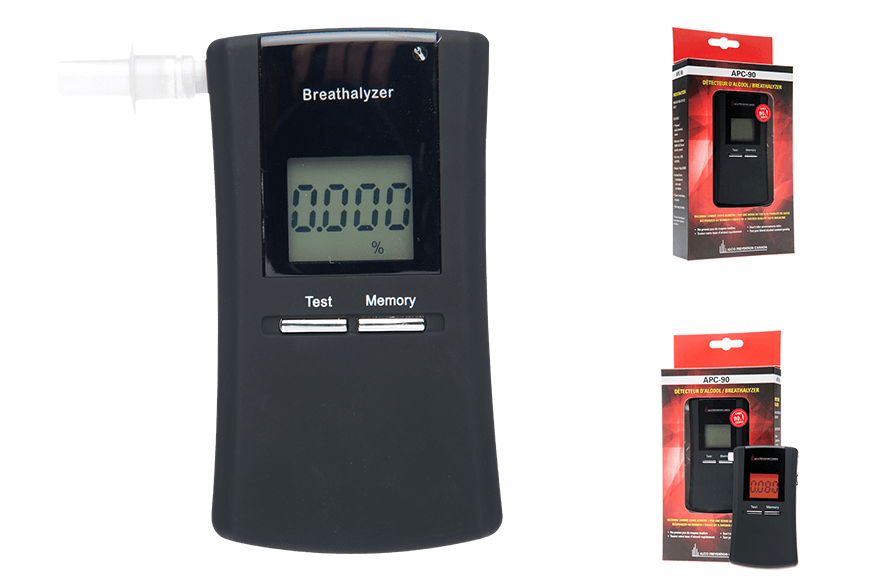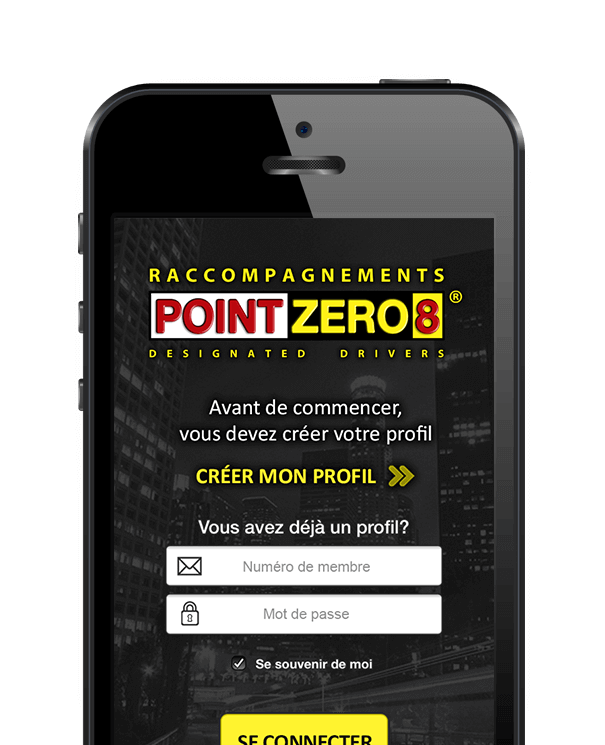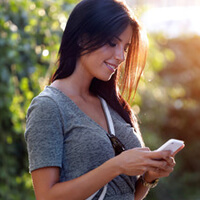 Request your ride
Download the app for free on your iPhone or Android cell phone. Creating your profile will allow you to quickly request a ride.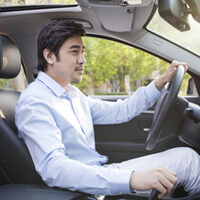 The drivers are on the way
Activate your app's notifications and you will be notified when the drivers get going. You will also receive a notification when they arrive.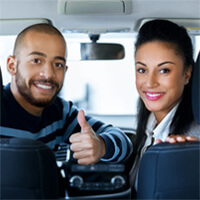 You are driven back home
We are driving you back safely, you can confirm the fare directly in the app and you will also be able to rate your ride.